ACP Aluminum Composite Panels for Wall Cladding
Brushed Aluminum Composite Panel consists of two sheets of corrosion resistant aluminum permanently bonded to polyethylene core material. The surface of the front aluminum is brushed finish, including two kinds of brushed finish, long Brushed Aluminum Composite Panel and short brushed aluminum composite panel. At the same time, other performance indicators must also meet the technical specifications of aluminum composite panels.
The brushed aluminum composite panel is a manufacturing process in which the aluminum sheet is repeatedly scraped out by sandpaper, and the process flow is mainly divided into three parts: deesterification, sand mill and water washing.
In the aluminum plastic plate drawing process, the special film Acp Sheet Door technology after the anodizing process can form a film layer containing the metal component on the surface of the aluminum plate, clearly showing each fine silk mark, so that the ACP Panel Cost metal has a fine hair luster.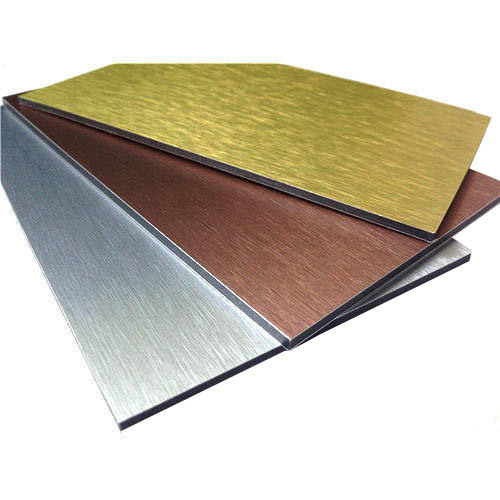 Feature:
1) Excellent fireproof property
2) Super peeling strength
3) Perfect cold resistance performance
4) Excellent surface flatness and smoothness
5) Superior weather, corrosion, pollutant resistance
6) Even coating, various colors
7) Superior impact resistance
8) Lightweight and easy to process
9) Easy to maintain

Application:
1) Exterior applications such as: Curtain wall, roofs and canopies, tunnels, column covers, pipes or renovations
2) Interior applications such as: Wall cladding, ceilings, roller shutters, bathrooms, kitchens and balconies
3) Advertisement and market applications such as: Display platforms, signboards and fascias
4) Compisite panel material, such as aluminum composite panel, honeycomb panel


| | |
| --- | --- |
| Product Item | Brushed Aluminum Composite Panel |
| Total Panel Thickness | 2mm, 3mm, 4mm, 5mm, 6mm, 8mm, 10mm, 12mm, 15mm, 18mm |
| Aluminum Skin Thickness | 0.08/0.10/0.15/0.20/0.21/0.25/0.30/0.35/0.40/0.45/0.50mm, as per request |
| Width | 1000mm,1220mm 1250mm,1500mm,1550mm, 1570mm, as per request |
| Lenght | 2440mm, 3200mm,4000mm, 5000mm, 6000mm, as per request |
| Standard Size | 1220*2440mm |
| Inner Core | Nontoxic PE core, Half unbreakable, Unbreakable, Virgin LDPE, FR Core |
| Top Coating Type | PE, PVDF |
| Back Coating Type | Mill finish , Color coated (PE, Epoxy), as per request |
| Color Range | Brushed silver/gold/copper etc, as per request |
| Top Coating Thickness | PE ≥18μm, PVDF ≥25μm, Anodized≥5μm, as per request |
| Back Coating Thickness | ≥7μm, as per request |