ACP Wall Aluminium Decorative Composite Panels
More and more metal products of aluminum plate products use metal wire drawing process to achieve beautiful and anti-erosion effect. Make the product both stylish and technological. This is one of the reasons why the process is popular.
The Aluminum Composite Panel(acp panels) is made up of multi-layer materials. The upper and lower layers are high-purity aluminum alloy plates, with a non-toxic low-density polyethylene (PE) core plate in the middle, and a protective film is attached to the front surface.
For outdoor use, the front side of the aluminum composite panel is coated with a fluorocarbon resin (PVDF) coating, and for the interior wall cladding, the front side is coated with PE coating.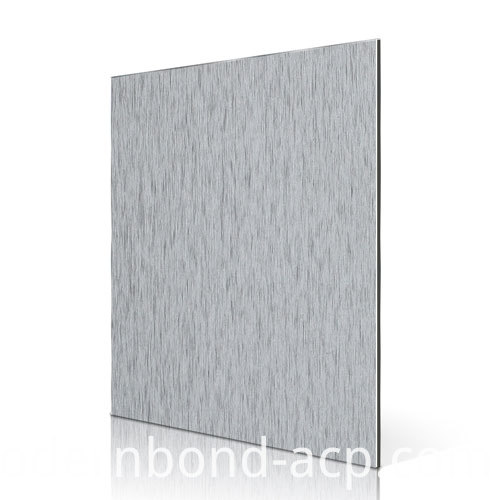 Feature:
1) Excellent fireproof property
2) Super peeling strength
3) Perfect cold resistance performance
4) Excellent surface flatness and smoothness
5) Superior weather, corrosion, pollutant resistance
6) Even coating, various colors
7) Superior impact resistance
8) Lightweight and easy to process
9) Easy to maintain

Application:
1) Exterior applications such as: Curtain wall, roofs and canopies, tunnels, column covers, pipes or renovations
2) Interior applications such as: Wall cladding, ceilings, roller shutters, bathrooms, kitchens and balconies
3) Advertisement and market applications such as: Display platforms, signboards and fascias
4) Compisite panel material, such as aluminum composite panel, honeycomb panel


| | |
| --- | --- |
| Product Item | Brushed Aluminum Composite Panel |
| Total Panel Thickness | 2mm, 3mm, 4mm, 5mm, 6mm, 8mm, 10mm, 12mm, 15mm, 18mm |
| Aluminum Skin Thickness | 0.08/0.10/0.15/0.20/0.21/0.25/0.30/0.35/0.40/0.45/0.50mm, as per request |
| Width | 1000mm,1220mm 1250mm,1500mm,1550mm, 1570mm, as per request |
| Lenght | 2440mm, 3200mm,4000mm, 5000mm, 6000mm, as per request |
| Standard Size | 1220*2440mm |
| Inner Core | Nontoxic PE core, Half unbreakable, Unbreakable, Virgin LDPE, FR Core |
| Top Coating Type | PE, PVDF |
| Back Coating Type | Mill finish , Color coated (PE, Epoxy), as per request |
| Color Range | Brushed silver/gold/copper etc, as per request |
| Top Coating Thickness | PE ≥18μm, PVDF ≥25μm, Anodized≥5μm, as per request |
| Back Coating Thickness | ≥7μm, as per request |