High Quality Aluminium Composite Sign Panel
New fireproof Acp Sheet Door is light in weight, compact in structure, good in stability, non-deformable, wood-like toughness, excellent in impact resistance, compression resistance, tensile strength and flexural resistance, rigid toughness and high flexural strength.
New fireproof Altobond Aluminium Panel are absolutely free of asbestos and harmful radioactive elements, and Acm Aluminum Composite Material are smoke-free and odor-free.

The superior sound insulation of the new fireproof Alstone Aluminium Composite Panel ensures a quiet and elegant living environment
Applications:
A) May be widly used in gallaies,exhibition,saloons,stores,offices,banks,hotels,restaurants and apartments
B) An ideal decorative materials for buildings
C) An ideal outer and inner walls
D) Kitchen cabinees,billboards,signboards,tunnels,subway,interiors
E) Cellings,eaves,galleries,balconies,partitions,interior decorations
F) Telephone tooths,vehicle bodies,yachts,industrial usage etc.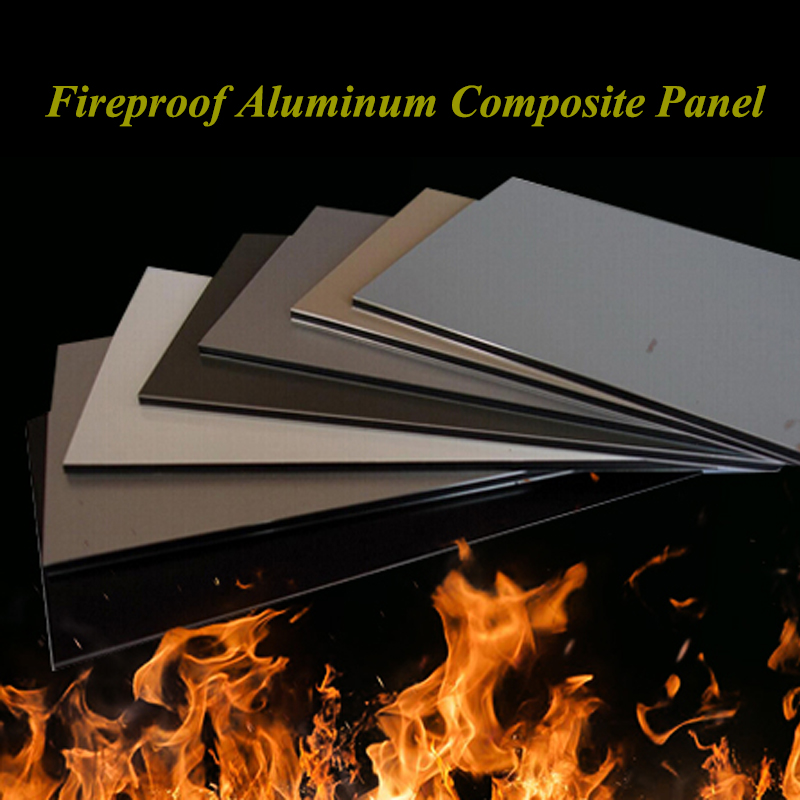 Features

1) Super peeling strength
With imported high-molecular film and international high-tech compound and heat treating, our ACP is with high peeling-strength.

2) Durability
ACP with PVDF coating is extremely good for the weathering resistance, acidity, alkaline resistance, thermal insulation and damping.

3) Fireproof
The middle layer is made of anti-flame materials, processed and extruded under high temperature, which stick to ACP with excellent fireproof function.

4) Impact resistance
The aluminum is tough, the core PE panel is flexible, therefore the panel has high impact resistance.

5) Easy to be processed
It is easy to be cut, bent, folded, arched and shaped with strong flexibility.

6) Noise absorptive
The PE core absorbs noise.

7) Multiple colors and coating evenness
Available in a diversity of colors, colors of panels could be customized exactly according to the requirements of esteemed clients, so as to realize different aesthetic purpose.


Application

1) Gas piping, cables, building materials, etc
2) Curtain wall decoration for buildings
3) Renovations of old buildings and movable houses
4) indoor walls, ceilings, bathrooms, kitchens and balconies
5) Billboards, exhibition desks and notice boards
6) Materials for industrial application, car and ship bodies

Items
Standard Inde
Test Value
Individual Judgment
Density of surfac
Rating±0.5kg/m2
6.8kg/m2
Qualified
Impact strength
50kg.cmWithout paint off and crack
Without paint off and crack
Qualified
Bend strength
≥ 1OOMPa
≥ 1O4MPa
Qualified
Flexuous modulus of elasticity
≥2.00 x lO4MPa
3.00 x lO4MPa
Qualified
Through resistance
≥9.0KN
9.50KN
Qualified
Cutting strength
≥ 28.OMPa
29.OMPa
Qualified
1800peel strength
≥7.0N/mm
≥9.1N/mm
Qualified
Resistance to change of temperature
-400C~-800C20cycles without change
Unchanged
Qualified
Boiling water resistance
Unchanged
Unchanged
Qualified
Coefficient of heat expansion
≥4.00 X lO-5 0C-1
2.93 X lO-5 0C-1
Qualified
Heat deformation temperature
≥1050C
1120C
Qualified
The test result meets the index requirements of quality product of GB/T17748-1999
Test Report of Safety of State Quality Supervision & Inspection Center of Fireproof Building Materials
Items
Test method
Technical index
Result
Conclusion
Minmum value of remaining length after burning
GB/T8325-88
> 0
410
Qualified
Average value of remaining length after burning
GB/T8325-88
≥ 150
486
Qualified
Temperature of smoke
GB/T8325-88
≤ 200
116
Qualified
Height of the top of the flame,mm
GB/T8326-88
〈 150
15
Qualified
Grade of smoke density
GB/T8327-88
≤ 75
34
Qualified
Note:The technical index based on the regulation of uninflammable materials(Grade B1)of GB8624-1997.