Golden Brush Aluminum Composite Panel Cladding
Golden Brushed Aluminum Composite Panel Cladding is a material built out of two aluminum Alucobond Panel. They are coupled onto the polyethylene core. Aluminum sheets are rust-proof, i.e. they are not susceptible to corrosion. This Aluminium Panel Sheet feature is a result of bonding with a polyethylene core. This particular composite material is different from other aluminum composite panels due to its finalization process. Namely, it is finalized through brushing. As a result, Golden Brushed Aluminum Cladding Panels products are extraordinary products used in many different areas and purposes.
Fire-resistance, superb peeling strength, extreme stiffness, lightweight nature, good temperature adaptability, heat and sound insulation properties, easy manufacture, easy handling and maintenance, and excellent self-cleaning character Aluminum Plastic Composite Panel.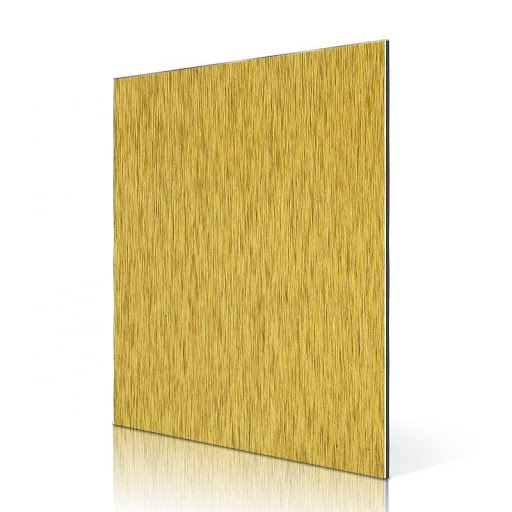 Feature:
1) Excellent fireproof property
2) Super peeling strength
3) Perfect cold resistance performance
4) Excellent surface flatness and smoothness
5) Superior weather, corrosion, pollutant resistance
6) Even coating, various colors
7) Superior impact resistance
8) Lightweight and easy to process
9) Easy to maintain

Application:
1) Exterior applications such as: Curtain wall, roofs and canopies, tunnels, column covers, pipes or renovations
2) Interior applications such as: Wall cladding, ceilings, roller shutters, bathrooms, kitchens and balconies
3) Advertisement and market applications such as: Display platforms, signboards and fascias
4) Compisite panel material, such as aluminum composite panel, honeycomb panel


| | |
| --- | --- |
| Product Item | Brushed Aluminum Composite Panel |
| Total Panel Thickness | 2mm, 3mm, 4mm, 5mm, 6mm, 8mm, 10mm, 12mm, 15mm, 18mm |
| Aluminum Skin Thickness | 0.08/0.10/0.15/0.20/0.21/0.25/0.30/0.35/0.40/0.45/0.50mm, as per request |
| Width | 1000mm,1220mm 1250mm,1500mm,1550mm, 1570mm, as per request |
| Lenght | 2440mm, 3200mm,4000mm, 5000mm, 6000mm, as per request |
| Standard Size | 1220*2440mm |
| Inner Core | Nontoxic PE core, Half unbreakable, Unbreakable, Virgin LDPE, FR Core |
| Top Coating Type | PE, PVDF |
| Back Coating Type | Mill finish , Color coated (PE, Epoxy), as per request |
| Color Range | Brushed silver/gold/copper etc, as per request |
| Top Coating Thickness | PE ≥18μm, PVDF ≥25μm, Anodized≥5μm, as per request |
| Back Coating Thickness | ≥7μm, as per request |